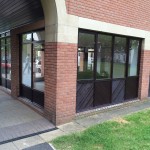 You may wonder why we haven't been posting much in the last monthor two and why I am looking more than usually demented.
Well, now it can be told as the lease is signed and the works about to be started: we are opening an Ice Cream Laboratory on Lawrence Parade, in Lower Square, at the other end of Isleworth Green, opposite Burchell's.
We are building an ice cream kitchen with lots of windows and glass so you can all still watch the King of the Ice Cream Elves at work, attached will be a retro ice cream parlour with high stools, sundaes and sodas.
This space will be ideal for children's parties as there is loads of open space on the green for letting off sugar induced energy!
We will also be opening a shop/exhibition space next door. The plan is to showcase the work of local artists on the walls and to sell local crafts.
Handmade bags, jewellery, children's clothes, toys, cards.
At Christmas we will have a Christmas shop with decorations, presents and cards! (I am excited for this already…)
As usual this is going to be an organic process and reliant on the help of our friends and loyal customers: all donations of useful stuff gratefully accepted and help may well be needed on the DIY front!
If you have stuff you would like to sell in the shop or you would like to lend a hand with the fit out please let me know!!